HUNTER UPDATES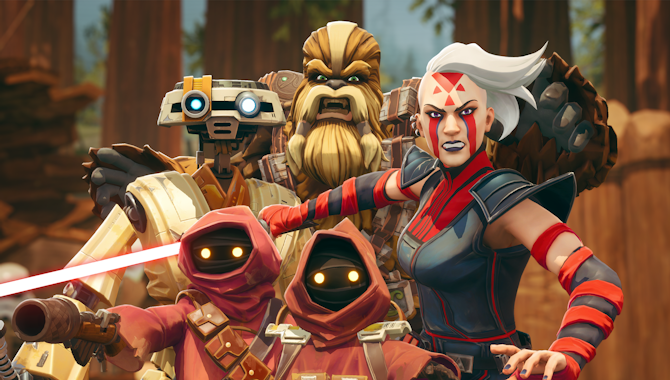 ABILITY REBALANCING
To ensure that matches are as fair and enjoyable for our players as possible, we have rebalanced some of our Hunters abilities and weapons
ZAINA
Time Bomb has been rebalanced to better accommodate the skill aspect of the Sticky Variant. It now deals more damage than the Widespread Variant as the large radius makes it easier to hit enemies.
Zaina's Dodge Roll ability has also been adjusted. The distance and cooldown of the ability has been updated to improve Zaina's repositioning, allowing her to navigate battles with more ease.
SLINGSHOT
Slingshot's weapon damage was too low compared to other Hunters. 
This has been increased for better balance, giving him more opportunities to eliminate opponents with his weapon.
GROZZ
The Upheaval Hammer Variant will now deal lower damage but at the same time has become a faster attack. This provides the player with multiple charges to disrupt opponents by knocking them upwards and slowing them. This sets up teammates to eliminate the enemy. 
The slow status effect from the Upheaval Quake Variant has been removed as this ability is more damage focused and helps set up Grozz with an Upheaval & Stampede combination.
Grozz's Stampede duration for the Sprint Variant has been increased to allow players to cover more ground.
War Cry's Invigorate Variant has had the duration for Damage Reduction and Invulnerability reduced as this was proving too powerful in battle.
SENTINEL
The Barrel Slam Pummel Variant has had its damage reduced alongside a reduction in charge time, allowing players to use the ability more frequently. 
Sentinel's Suppressing Fire has been given a damage increase and the weapon spread has been reduced.
UTOONI
We have reduced Utooni's Switcheroo time so players can change their battle styles much faster.
Utooni's Hands Off ability has also been adjusted. The Core and Breakout Variant will knock opponents further back whilst the Burst Variant will apply a greater vertical knockback
J-3DI
Both of J-3DI's Deflective Stance Variants have received a reduction in duration. 
J-3DI's Faux Pull Haul Variant has also had a reduction in duration, allowing a greater chance for opponents to escape.
RIEVE
We have reduced the cooldown on Rieve's Lightsaber Throw Recall Variant.
SPROCKET
We have rebalanced and increased the cooldown time across all of Sprocket's abilities.
SKORA
As a Support Hunter, Skora's healing abilities should be more powerful than her damage abilities. So these have been rebalanced to provide greater healing to your teammates.
Adrenal Boost's speed boost has been increased for all levels, improving players mobility and ground coverage.