GAMEPLAY UPDATES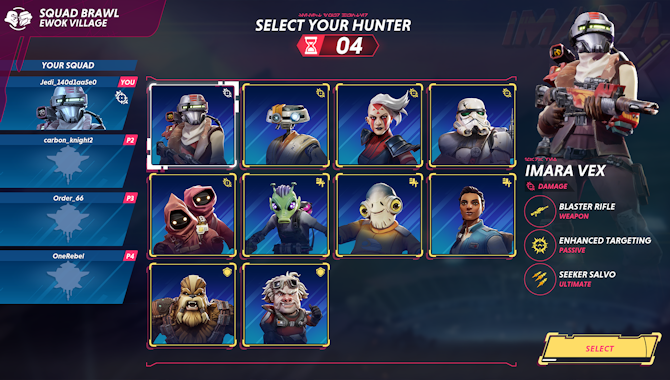 HUNTER PROFILE
We've overhauled the Hunter profile screen, to improve the readability and conciseness of the screen, and present Hunters in a more compelling way.
UPDATED TUTORIAL
An updated tutorial has been added to the start of the game to help teach players the base mechanics of Star Wars: Hunters and introduce them to new iconic characters. New players will experience this tutorial at the beginning and current players can access it from the Game Mode Select menu.
NEW SCORE FEATURE AND BADGE UPDATES
A new Score feature has been added in matches that reward players for their skill and prowess in matches. Players will earn more Hunter Fame at the end of matches, based on the Score accumulated in a match.
In addition, the following changes have been made:
Many new Badges have been added to celebrate and reward player accomplishments in matches

Updated Badge positioning, animation and UI in matches

Earned Score, Badges and related Hunter Fame rewards have an updated display in the Match Rewards screen
GAME MODE SELECT
We've improved the mode selection experience to be easier to use and provide more information to our players about the different mode types.
HUNTER SELECTION AND PRE-MATCH IMPROVEMENTS
We've made some large changes to the way players load into a match and how they pick their Hunter. 
In the new Hunter selection:
Players will now select their Hunters from a larger, more accessible grid

Selection is performed simultaneously with the other members of their squad

After an initial 3 second window, players will have 20 seconds to select their Hunter

If all players in the match have selected their Hunter, the timer will reduce to start the match sooner
With the new Hunter selection changes, Intro Animations are no longer played and are being removed from the game (more information below).
There are additional changes to the pre-match experience aimed at creating a smoother and more informational flow, including an estimated wait time and Mode Guides to explain match objectives.
We've also added a short, 8 second preparation phase to the start of each match, ensuring all players can set off at the same time, and allow players to ready themselves for the imminent battle.
INTRO ANIMATION REMOVAL
With the overall changes made upon entering a match, Intro Animations are no longer part of the Hunter selection experience and are being removed from the game.
With this update, the Intro Animation section will no longer be available from the Hunter Profile and they will not appear as rewards anywhere in the game. For more information about this decision please check our FAQ here.
POST-MATCH IMPROVEMENTS
We've completely revamped the post-match experience to be clearer and more engaging, including more details around badges. Players will now also be able to clearly see their upcoming Player Level and Hunter Fame rewards, and both claim and equip rewards they unlocked during the match
DUNE SEA OUTPOST BALANCING
Improved balancing and player flow of Dune Sea Outpost through a layout overhaul of paths in and around the map center.
HUNTER TOKEN REMOVAL
From 0.16.0 onwards, there will be no way to earn additional Hunter Tokens. However, players will still be able to spend any previously earned Hunter Tokens. Hunters will remain purchasable with Hunter Tokens, and any missing tokens can be substituted with Crystals.
For more information about this decision please check our FAQ here.